Attorney General Merrick Garland's appearance Wednesday before the Senate Judiciary Committee could grow heated as lawmakers are expected to quiz him on domestic terrorism and deaths from drug overdoses such as those from fentanyl.
"We all want to work with you on this side," Sen. Lindsey Graham, R-S.C., said in his opening remarks after saying he believes that the rise of crime throughout the country has not been taken "as seriously as we should."
Garland started his remarks by praising the employees of the Department of Justice, a response to criticism that the sprawling agency has politicized its enforcement of the law.
Garland spoke to the DOJ's accomplishments under his tenure to uphold the rule of law, keep the country safe and protect civil rights. These include combatting the rise of violent crime and hate crimes, working with Ukrainian partners in defense of democracy, and protecting reproductive freedom.
"Every day, the 115,000 employees of the Justice Department work tirelessly to fulfill our mission: to uphold the rule of law, to keep our country safe, and to protect civil rights. Every day, our FBI, ATF and DEA agents, and our Deputy U.S. Marshals put their lives on the line to disrupt threats and respond to crises," Garland said.
"Every day, Department employees counter complex threats to our national security," he said. "They fiercely protect the civil rights of our citizens. They pursue accountability for environmental harms. They prosecute crimes that victimize workers, consumers, and taxpayers. They defend our country's democratic institutions. And every day, in everything we do, the employees of the Justice Department adhere to and uphold the rule of law that is the foundation of our system of government."
Garland faced a range of questions. Chairman Sen. Dick Durbin, D-Ill., and Graham started the hearing by grilling Garland about the fentanyl crisis.
Durbin said there is a "general consensus" on the committee that more needs to be done about the sale of "phony drugs sold on social media platforms that have fueled fentanyl trafficking.
Garland said he agrees with the senators that more needs to be done. He said he has met with families of children and young adults who often think that they're taking prescription drugs bought online, but are actually filled with fentanyl. Garland said that in addition to the DEA reaching out to social media companies on the issue, the sale of the so-called "phony drugs" needs to be taken off of platforms and algorithms should not be used to recommend them to users.
Sen. Chuck Grassley, R-Iowa, pressed Garland about what steps the DOJ has taken to investigate Hunter Biden. Garland reiterated his previous pledge to not interfere in the matter.
Sen. Mike Lee, R-Utah, pressed Garland about protesters in the wake of the leak of the Dobbs decision last year, which overturned the landmark Roe v. Wade decision that guaranteed the right to abortion access. Lee asked Garland why those who protested outside the homes of Supreme Court justices have not been charged, despite their attempts to "influence jurisprudence."
Garland said he ordered more than 70 U.S. Marshals to protect justice's homes around the clock. He said the Marshals have been advised to arrest people under any federal statute.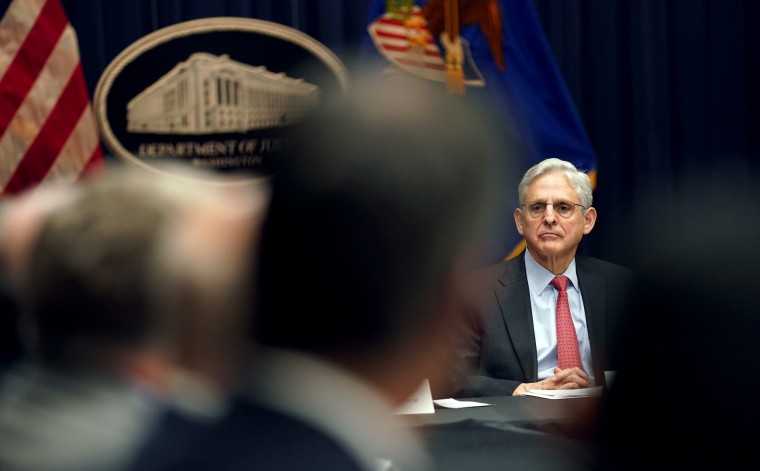 "Where do we start? You know, that's not any reflection on his service, but just the jurisdiction he has," chairman Sen. Dick Durbin, D-Ill., said before the hearing.
Sen. Josh Hawley, R-Mo., said there's a "wide field" of questions he has but that "the politicization" of the DOJ is a top priority.
The hearing comes a day after FBI Director Chris Wray told Fox News that the agency believes that Covid probably originated from a "potential lab incident" in Wuhan but that the Chinese government has essentially interfered with the ongoing probe. Wray's remarks were issued after the U.S. Energy Department concluded with "low confidence" that the Covid pandemic "likely" originated from a laboratory leak in Wuhan, according to a classified report delivered to key lawmakers on the House and Senate Intelligence committees.
Other matters that have drawn scrutiny include Garland's handling of separate special counsel investigations into classified documents linked to former President Donald Trump and President Joe Biden, as well as the Biden administration's handling of school board meetings across the country that have intensified and grown violent in recent years, especially since the start of the pandemic.
The Justice Department said Wednesday that it has begun to turn over documents to the House Oversight committee regarding school board meetings.
Frank Thorp V, Michael Kosnar and Ryan Nobles contributed.